Are you excited at the idea of being able to use the Microsoft tools you already have to help streamline more of your business processes, but have no idea how to get started?
Microsoft 365 contains more than 14 apps to help you manage your business from start to finish! But you don't have to tackle them all at once ... in fact, I recommend taking 1 easy step and starting with the Microsoft Must-Haves Tutorial! With 4 lessons, it offers an hour of video and tutorials broken down in a practical way to show you how to make your life easier, using tools you already have! No more feeling overwhelmed.
How would it feel if you could simply direct your clients to a private online portal, available on any device, where they could:
   🌱  upload files and content directly for you to use
   🌱  track the progress of their work with you directly, without disrupting your day
   🌱  access their final content without a flurry of emails, massive attachments or bounced messages
With the Microsoft Must-Haves Tutorial, I've put together a practical, step by step set of video modules to have you creating the key elements of a practical, but professional client portal - all with your existing Microsoft 365 tools!
By the end of the tutorial, you will have created: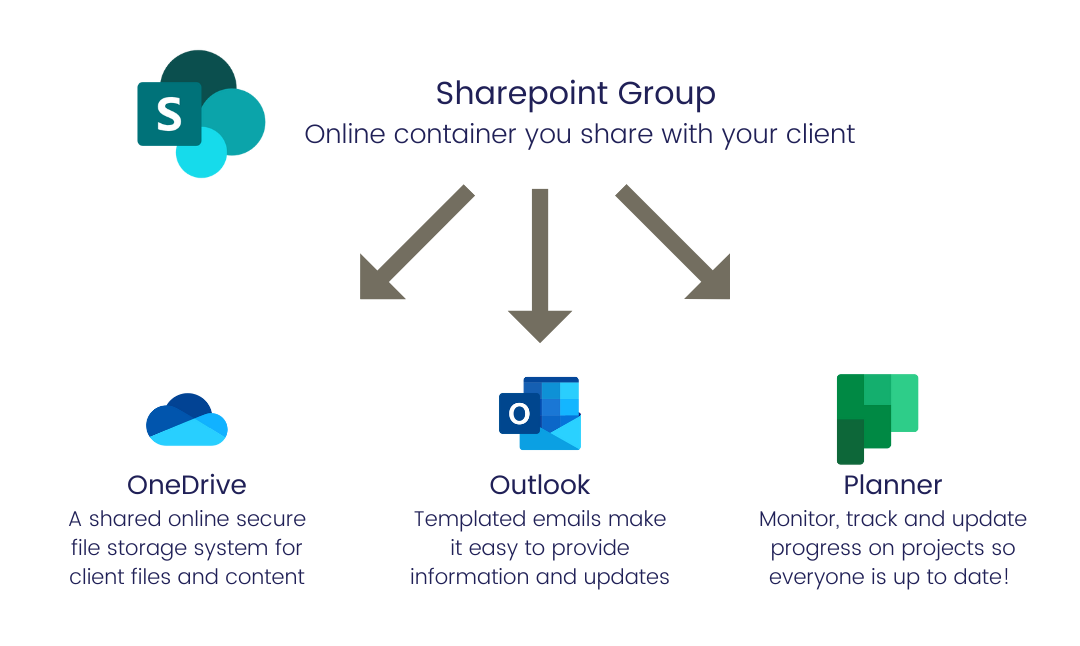 "Marianne is professional, knowledgeable and an absolute dream to work with. This one document template is now going to be used over and over again and I'm going to look a whole lot more professional!"

Gemma Wilson

Cherry Blossom Social Media

"Marianne is by far the most experienced administrator I have ever had the pleasure of working with. She makes it all seem so easy - it really is like she can see what I have pictured in my mind!"

Rochelle Courtenay

Share the Dignity

"Our ongoing dealings with Marianne and Thrive have been superb. The quality of work, timeliness, proactivity and breadth of skillset has been of enormous support to our young and growing business."

Peter O'Neill

De Motu Cordis

"Finding someone like Marianne who is at a 'expert' level of experience not only with actual MS Word document formatting technical skills but also exemplary customer service has been amazing for me, likened to striking gold! I would highly recommend Marianne's services to anyone."

Lee Doherty

Admin & Co

"Thank you so much, I found the session extremely useful and I really appreciate the notes and the recording. The way you explain things makes it so easy to understand."

Juliette Beverley

Virtually Driven
- Module 1 -
OneDrive
Give your Sent Items folder a break, by learning how to professionally send OneDrive links to files and folders
- Module 2 -
Outlook
Start setting up rules and templates that make it easy for you to manage your inbox, and work on what's important!
- Module 3 -
Planner
Create a Planner board that gives you instant access to images, captions, hashtags and links for social media
- Module 4 -
Sharepoint
Create a functional and professional client portal using Sharepoint, and make collaborating on files so easy!
Hi there - I'm Marianne
In case we haven't already connected, I am the owner and Microsoft Magician at Thrive Admin Services, a specialist Microsoft 365 training and support service. I have worked in corporate administration roles for over 20 years, covering every stage of administration from reception to finance to C-Suite 1:1 EA work. 
I love solving problems, and being the 'make it happen' person when it comes to documents, spreadsheets, presentations and business systems. My experience has shown me that that it's possible to do some incredible things within the Microsoft 365 suite of products. I know that with a little know-how, you can confidently manage your business and wow your clients using the tools you already have at your fingertips with Microsoft 365!