Doors to the membership open again in ...
00
days
00
hours
00
mins
00
secs
QUESTION FOR YOU ...
What's the difference between how you currently use Microsoft 365, and it being an essential part of your business workflows, processes and client management?
The only difference between where you are now, and making Microsoft 365 an integrated part of your entire business, is that you don't have the tools in place to see, understand and implement the right elements for your business! Thriving with 365 is the place to learn, share and grow your skills and confidence with Microsoft 365, so that you can truly master Microsoft, in a way that feels aligned and authentic for you!
Successful implementation of the tools and features in the 12+ apps included in your Microsoft 365 subscription is a process, but if you don't know what's possible, or how to put them together in the right way, it can be frustrating and overwhelming. Join me in the next intake of Thriving with 365 members, and tap into my knowledge and expertise as I share all of the insights, shortcuts and tailored support options you need to grow your confidence and your business with Microsoft 365!
Waitlist members get
EARLY BIRD

access to the membership, as well as a

SPECIAL BONUS OFFER

- not available anywhere else!

Being on the waitlist does not commit you to becoming a member of Thriving with 365 - it only means you will get notified first about doors opening, and special offers available only to waitlist members!
Let me know if this sounds familiar:
You have spent more than you care to know on a bunch of programs that are meant to make it easier for you to run your business
Each system has its own jargon, password, and way of doing things that you have had to spend time learning and understanding - yet it still isn't quite working for you
You've taught yourself how to use each system, but each time it doesn't match up with what you need, leaving you frustrated and confused about what to try next!
IF THAT SOUNDS ABOUT RIGHT, THEN KEEP ON READING
You know something needs to change...


IT DOESN'T HAVE TO BE THAT WAY!
Imagine how it would feel to ...
Know that your bookings, forms, video calls and consulting sessions all integrate with each other seamlessly - every time
Be a part of a brilliant community of other women who are learning how to build their business using Microsoft 365 with you
Have direct access to a Microsoft 365 expert who gives you tailored support and advice so you can run your business, your way
systems and processes that work for you ...
and I'm here to make that happen!
INTRODUCING
Thriving with 365
The most responsive, comprehensive and personalised Microsoft 365 education, training and support for women in business.
A membership where you will learn how to streamline your business processes, take your professional documents to the next level, and get more bang for your buck from the tools already available to you inside Microsoft 365!
LEARN HOW TO CREATE A TRULY TAILORED SYSTEM TO RUN YOUR BUSINESS, YOUR WAY
Are you ready to work smarter?
With over 20 years' corporate admin experience, Marianne has seen it all when it comes to juggling all the different parts of a business, and trying to make it work without driving you crazy!
Thriving with 365 is designed to get you the answers you need, when you need them. No jargon, complicated tech-heavy processes, and cookie-cutter templates here - it's all about finding what makes sense to you, how you do business, and what your clients need from you!
Through working as a corporate EA and being the 'make it happen' person for startups, not-for-profits, solopreneurs and large corporations, you'll be tapping into the experience gained over 20+ years of having to create something from almost nothing, and making it work. You will have access to Marianne live, and in 1 to 1 sessions, where she can deep dive with you to help you build, implement and manage a system that truly eases your workload, all with Microsoft 365!
Join the waitlist to get an
EXCLUSIVE BONUS

offer on membership

Being on the waitlist does not commit you to becoming a member of Thriving with 365 - it only means you will get notified first about doors opening, and special offers available only to waitlist members!
LET'S DIVE DEEPER INTO THIS
Here's how you work smarter ...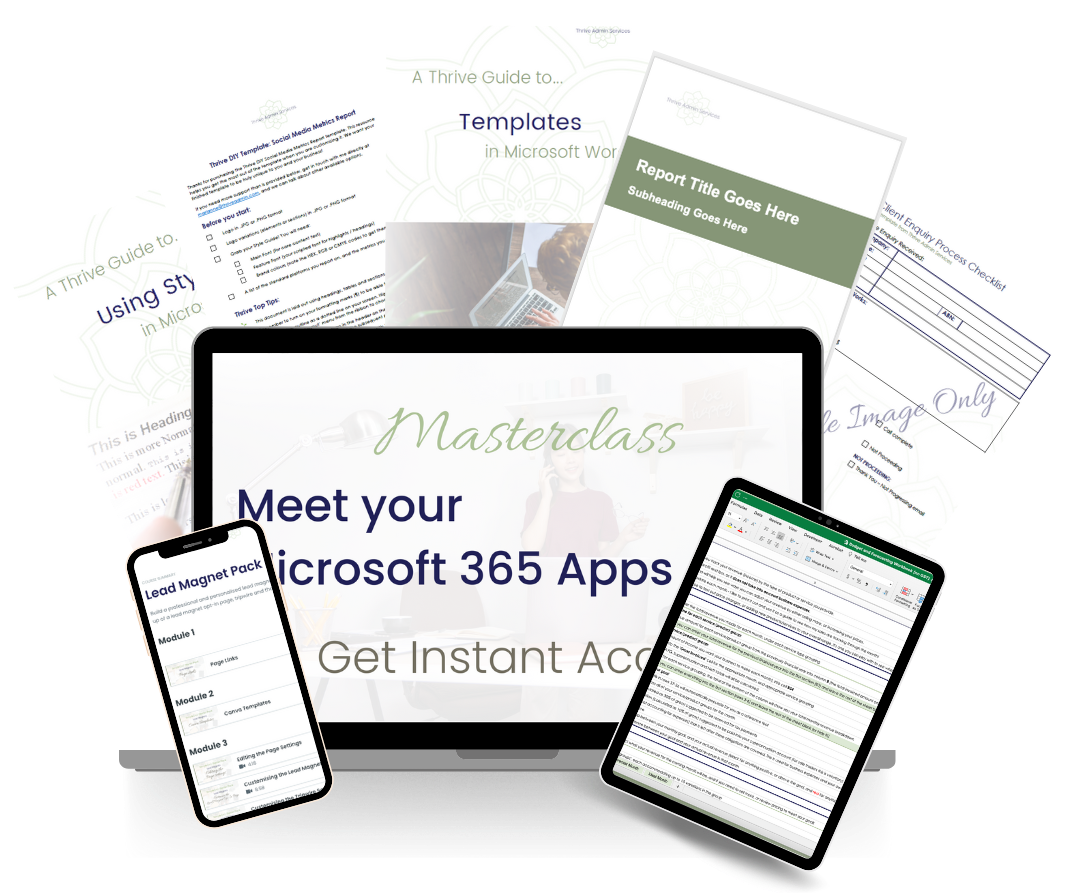 INCLUDED IN YOUR MEMBERSHIP
THRIVING LIBRARY
All of the tools you need to start working smarter, in one central library!
All LIVE sessions are recorded so that if you cannot make it, you can watch it at a time that works for you.
There's also regular member-exclusive video tutorials, as well as full access to all of Thrive's DIY templates, tools and business resources, so you can start using more Microsoft in your business.
INCLUDED IN YOUR MEMBERSHIP
MICROSOFT MAGIC SESSIONS
60 minutes of 1:1 support each year, to get you using the tools you are already paying for
Each year you have 6 private coaching sessions with Marianne, for whatever Microsoft mischief you need help with, in a safe and private space.
Sessions are recorded and you get the link to the recording to keep, and come back to whenever you like.
INCLUDED IN YOUR MEMBERSHIP
MONTHLY DROP IN SESSIONS
90 minute Microsoft Teams open sessions so you can get a direct answer to your current problems!
These LIVE sessions are an 'open mic' event, where you can submit a question in advance to be answered, or drop in at any point during the session window. 

2 sessions every month
INCLUDED IN YOUR MEMBERSHIP
THRIVING JUMPSTART
Get your content personally reviewed by Marianne
Got a document, spreadsheet, form, or presentation that just doesn't seem to be doing what you want?
Submit it to Marianne for review, and get specific insights and feedback to ensure that you are making the most of the new elements you add to your business using Microsoft 365.
INCLUDED IN YOUR MEMBERSHIP
THRIVE MASTERCLASS
Join the monthly Masterclass to build your knowledge
These live, interactive workshops include the opportunity to work alongside Marianne to create a specific tool or template within Microsoft 365 that you can implement in your own business.  

Skip the queue, and join Marianne live at no additional cost whenever you see a topic that takes your fancy!
1 Masterclass every month
EXCLUSIVE BONUS

offers for waitlist members

Joining the waitlist does not commit you to becoming a member of Thriving with 365. It does mean that I will email you with a special link before doors open to the public, but it's always your choice as to whether you join us!
NO LONG LOCK IN CONTRACTS
You've got the freedom and flexibility.
We are so confident that you'll love being a part of Thriving with 365 that we have no lock in contracts! Monthly members can cancel at any time.
But, you know, we think it's actually going to be a game changer for your business and life, so strap yourself in for some magic!
Hi there - I'm Marianne
In case we haven't already connected, I am the owner and 'Make it Happen' Online Business Manager here at Thrive Admin Services . I have worked in corporate administration roles for over 20 years, covering every stage of administration from reception to finance to C-Suite 1:1 EA work. 
I love solving problems, and being the 'make it happen' person when it comes to documents, spreadsheets, presentations and systems. My experience has shown me that that it's possible to do some incredible things within the Microsoft 365 suite of products. I know that with a little know-how, you can confidently manage your business and wow your clients using the tools you already have at your fingertips with Microsoft 365!
STILL HERE?
Awesome - because there's something I want to tell you.

This is not an online course ... it's an experience.
Join the savvy women already in this group, who are taking action to save time and money, and reclaim the mental bandwidth they need to be able to focus on what they love about their business!
Frequently Asked Questions
Here are some common ones that people ask before joining Thriving with 365. If you still have more, go ahead and email info@thriveadmin.com 

What's the investment?

Thriving with 365 is a high touch membership, with hands-on coaching and continuous support for Microsoft 365. And as you might imagine, a program this engaging and comprehensive is not going to be for everyone.
We offer a monthly payment option if you need full flexibility, or a discount if you become an annual paying member and commit. My goal is to get you using more of what is included in your Microsoft 365 subscription, so you can remove duplicate programs, and work smarter with seamless integration across your business.
Thriving with 365 is designed to help you save time and money across your entire business, in a way that's tailored and aligned to your individual situation, so we give you everything we can to help you see what's possible, choose what will keep your business moving forward, and tweak, refine and adapt as you evolve.
Scroll just below, to see the options for Thriving with 365.
Start thriving with Microsoft 365
Get instant access to your member portal, filled with tutorials and tools so you can get more bang for your buck from your Microsoft 365 subscription.
Monthly Membership
$197
per month
Pay by the month
No lock in contract
Annual Membership
$1,970
per year
Pay upfront and save
2 months FREE