What's in a name?
Specifically, file names. Why is the way you name your files, and folders, important?
It comes back to my favourite thing - saving you time and effort!
When your files are named and stored in a way that makes it easy for you to find them in a hurry, you know that you are doing things right!
And, it's really important to make this point at the beginning - there is no one right way to do this. You have to find a way that works for you. So this post is more about giving you some pointers on ways to help make sure your filing system is working for you, and your business.
I bet developing a filing system isn't something you even thought of, specifically. You just started out doing what you need to do to make your business actually work. And, over time, you've started to accumulate files and documents - and let's be clear about this, they don't necessarily have to be paper files and documents. This includes your electronic files.
So how do you keep on top of it all? Well, here are some really simple questions you should ask yourself, and some ideas on how I've seen it work before.
What is the natural way to group your information, for your business?
Depending on your business, you will classify and group your data in different ways. Some of these might be:
client name (SURNAME First Name)

project title (The title of the project)

month (YYYY Month)

type of work (The Type of Work)

product (Product Name)

team (Marketing, IT, Accounts, etc)

account code (A number used in your accounting system)

a specific number or code (if you use a system that generates codes or numbers)
or it could be a combination of these things.
You can also have subfolders - so you might group all of your top level folders by client, but each client has a folder for each project you have taken on for them - for example:
Top Folder - SMITH Jane (using the client name)

Subfolder - 2016-10 OO Purchase (for an October 2016 owner-occupied purchase)

Subfolder - 2018-05 Invest Purchase (for a May 2018 investment purchase)

Subfolder - 2020-03 OO Refinance (for a March 2020 owner-occupied refinance)
You should absolutely have a filing system that matches the most common sense way for you to think of the information. It doesn't matter which one you choose, but it should be an easy way for you to find what you need, and be consistent - every file should be named the same way.
Where is the right place to store my filing system?
Nowadays there are loads of options to help you store your data. For security reasons, you should always have a good backup system in place, no matter what system you choose.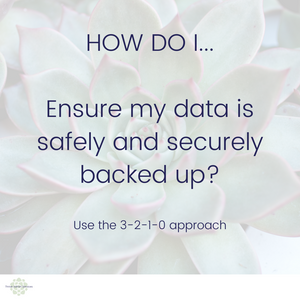 3: the ideal number of copies of your data and files. This can be the original data on your computer, a cloud copy, and an offsite copy on an external device (like a hard drive).
2: the number of storage devices you use (I use cloud storage, and an external hard drive).
1: the number of copies of your data that should be off-site (away from your main work area). If your home office is damaged, your data should be available elsewhere.
0: the number of errors your backup files should contain. A backup is no good if you can't use the data on it!
For me, I use Dropbox as my primary storage system, but I take a copy of my entire Dropbox files to an external hard drive every week. This means I have an offline copy of everything, and it's not saved onto my computer in case of any crashes or power issues.
You should also consider if you will need to share access to your files with anyone - either to have a client upload documents, or to have your team assist with the work. Making sure that you have a system that will allow you to do that gives you some 'future proofing' options too.
Is there a standard set of documents that each client/project will have?
This is such a great way to save time.
If you use the same forms for every client/project, like your intake/fact find, quote or proposal, a contract, disclosure or privacy policy document, you should have a blank template for each one.
Compile a set of these blank documents into a folder on your system, and call it your MASTER TEMPLATE. Once you have this folder, with all the standard subfolders and blank files you would always use for a client or project, you can simply copy this each time you get a new client or project, and rename it!
Using our example from above, each of Jane Smith's folders might look like this:
Hard copy or electronic files?
There is a big push to be paperless these days. And for some industries, that's just not possible. If you still need original signed documents, or do a handwritten fact find on site with a client, then you will have paper around, there's no way around it.
What you can do is minimise the amount of paper you keep.
Scan everything you can, and shred the hard copy version if you won't need to produce an original at any point throughout the process.

Ask clients to email you through scanned copies of their identity documents after you have met with them (drivers licence, payslips, etc).

Share your online file for them directly (you can do this with OneDrive, Sharepoint, Dropbox and GoogleDrive), and they can upload them directly. **To do this, you should perhaps create a subfolder call Documents (or similar), and only give your clients access to this folder to upload.
For the hard copy files you do need to keep, use the same system as your electronic files.
Label your files clearly.

Whether you use a filing cabinet, archive boxes or binders, be systematic and consistent.
Stay on top of it all!
The biggest issue with filing, is letting it get away from you. To make sure you have access to everything you need when you are on the road or away from your main workspace:
Set aside some time each day or week to get all your filing done - emails saved down, attachments saved down, hard copies scanned and saved, hard copies filed.

Keep a pile of 'to do' filing, separate from all the paperwork you are currently working on - don't get them mixed up!

Always put your files away after working on them
You should also put together a plan for completed clients, particularly hard copies. Having a separate archive box or drawer for 'closed' clients means you aren't trawling through looking for a file in amongst a pile of finished ones!
Some last tips
As someone who really does love organising, tidying and filing (I know, so weird), these are some tips based on how I like to work:
Once you set up your file names and document names, write yourself a quick 'cheat sheet' to refer to that lists the ones you will always be using. I
have one stuck up on the side of my computer, so I can look at it when I am saving anything into a folder easily. This helps me when I'm in a hurry, but also really helped when I was just starting out, to create the habit of using those names every.single.time.
Keep it simple - don't overcomplicate the names you use for things. If you are loading them up into a CRM or aggregator later, try getting into the habit of using the same terms they do on your system - it makes it much easier later by not having to rename things!

Regularly review and update your MASTER TEMPLATE folder. As rules and processes change, your requirements for each client will change too - keep that up to date to save you time when setting up your clients.

If you use handwritten forms, and they will be scanned, try and make sure they are as clear as possible. This will avoid issues later on, particularly if you can't get your hands on the original down the track.

Don't forget to back it up! Having a back up will save you both time and money later on if something did happen to your system.

Find what works for you - this is true in so many aspects of your business, but it's really important here. Don't compare yourself to others, and don't feel like you 'should' do it a certain way because of x, y and z. Do what makes sense and is easy for you - it's your filing system after all 🤓
I hope these help you find a filing system that works for you! If you have any questions, come and chat with me over on Instagram or Facebook (just search for Thrive Admin Services), or drop me an email at info@thriveadmin.com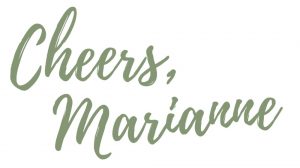 -

BLOG AUTHOR

- 
Marianne
Tansley
Marianne is your fast-talking, cheese-loving 'Make it happen' Online Business Manager (OBM) at Thrive Admin Services. Based in Hervey Bay, QLD, with her husband and their two dogs (Eli and Skye), she's a natural problem-solver, with a knack for seeing both the big picture and the small steps needed to make it a reality.
With over 20 years' corporate admin experience, she specialises in working with women in business to share the tips, tricks and features inside systems like Microsoft 365, Simplero, and more. It's all about reducing the overwhelm, frustration and heavy tech-talk, to create common-sense practical systems and processes that make sense to you! After all, sharing is caring!
Want more Thrive?
Get our weekly newsletter with all the latest updates, including special offers and custom resources! Unsubscribe at any time.