Making your Fact Find work for you
Data entry. It's a really important part of your role as a mortgage broker. It has to be done right to make sure the client is evaluated fairly. It has to be done fast, so that their pre-approval or approval can be confirmed, and they can get on with that life-changing purchase.
It's also something that could be taking you a lot more time than it should. And that's not just because of your typing skills, or the fact that you do your data entry at the kitchen bench late at night while trying to also be a part of your family (although, I'll be honest - that isn't helping!).
There are some really simple things you can do to ensure that you are doing your data entry as efficiently and effectively as you can (hunter-gatherer typists included!). I'll be sharing a series of blog posts over the coming weeks on simple ways to save you time on your data entry.
This week's topic is all about your Fact Find!
Now, you may use a template from your aggregator. You may use a template you got from a friend/colleague. You might even have just knocked up your own document in order to have something that works for you. All of these are great. But you should take 5 minutes to check the following, and make sure you are using that form in the most efficient way possible:
Does your form follow the same order as the system you are entering it into?
By this, I mean, when you open up your system, and you start working through the fields to fill in the applicant(s) details, their addresses, date of birth, employment history - do the form and the system match?
If they don't, just by re-organising the form into the same order will save you time in future. It might take a little bit of getting used to, especially at first, but it will definitely save you time in the long run.
Does your form ask for ALL the information you will need to input it later?
Do you flick between the fact find, the copies of their licence (for dates of birth, addresses, expiry dates), and then to their payslips for their employer name? Save time by writing/typing it all into your fact find, and reduce paper and frustration later!
Who completes your fact find?
Most brokers complete the fact find themselves, while they are with their client. Some take all the documentation and go home (or to a cafe for a breather!) and then transfer things over later. Others still get the client to fill it in.
Again, all of these are perfectly fine, and you should go with what works for you. BUT, and it's a really big BUT (and I cannot lie 😉), any of your handwritten forms need to be clear and easy to read. If you scan them in later, and want to upload them as part of your compliance docs, they aren't much use if no one can read your writing!
Make sure you use a black or blue pen, and write clearly. You don't want to have to go back and ask the client for those details again!
For every minute spent organising, an hour is earned. - Benjamin Franklin
A Fact Find doesn't need to be fancy, but it certain needs to be practical. By taking 5 minutes to assess your form now may save you hours down the track. And who doesn't want more time?
How's your fact find? Drop a comment below to share how you use yours to help you work smarter, not harder, or find me on Instagram (@thriveadminservices) and let's chat!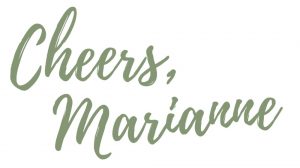 -

BLOG AUTHOR

- 
Marianne
Tansley
Marianne is your fast-talking, cheese-loving 'Microsoft Magician' and Online Business Manager (OBM) at Thrive Admin Services. Based in Hervey Bay, QLD, with her husband and their two dogs (Eli and Skye), she's a natural problem-solver, with a knack for seeing both the big picture and the small steps needed to make it a reality.
With over 20 years' corporate admin experience, she specialises in working with administration professionals and professional services business owners to share the tips, tricks and features inside your existing Microsoft 365 subscription to create the systems and processes of your dreams! It's all about reducing the overwhelm, frustration and heavy tech-talk, to create common-sense practical systems and processes that make sense to you! After all, sharing is caring!
Want more Thrive?
Get our weekly newsletter with all the latest updates, including special offers and custom resources! Unsubscribe at any time.