So, like, what do you do?
Anyone reading this who is a virtual admin, or has worked in admin in any form before, has probably been asked that very question.
Admin is this magical term - it's everything, but nothing. It's a combination of all the things that need to be done, but it's secretive and invisible to anyone outside it seems.
I love being an administrator. I really love being a virtual admin. It feels like home - like I have found my place. And now I am actively seeking my tribe - others who, like me, are doing what they love, and making workplaces all over the world happier and healthier as a result.
But yes, back to the question in hand - what do I do?
My favourite way to describe administration for any business is simple:
A good administrator is the glue of your business. When you glue something together, it sets clear, and no one can see it. But without it, everything falls apart.
I love being the glue of a business. Being able to see the little things behind the scenes that can make your business easier, smoother, more effective, more professional, and so on. I also really love being at the desk, working away on documents, spreadsheets and systems, so that when you want something, it's there - ready for you to roll out.
But still that question can stump me. When someone asks 'so what do you do?' my first instinct used to be to say 'Me? Oh, I'm just an admin,' and hope that they understood.
As I've stepped out as a virtual admin, I've learned that I need to be able to clearly explain what I do, so that people who need my services understand that I can help them. It's the very first step in being able to market myself and my business, but also to make sure that I am connecting and working with people who I fit with.
So, what do I do?
I'm a virtual admin, and I specialise in working with professional services businesses who need help with their data entry, document formatting, and project-specific admin support. By providing flexible and tailored admin support, I give business owners peace of mind, and the space to focus on their business.
Now, don't get me wrong. I didn't just wake up one morning knowing that paragraph. It's evolved and formed over the last 6-12 months - admittedly it was a jumble of lots of things I had written on scraps of paper and across whiteboards which all got pulled together after sitting down and doing some coaching sessions (and doing a lot of 'homework' afterwards!).
Is it perfect? Probably not. Does it need to be? Definitely not.
What I do will change. It will evolve and adapt, because it will need to.
But am I happy with what it says about me, my business and what I can do for you as a business owner? Absolutely!
So if I happen to bump into you at a (virtual) event any time in the future, and you ask me 'what do you do?', you should expect to hear something very similar to that statement.
And I would be thrilled at the chance to provide you with any of those services, because I could very well be the glue that your business is looking for!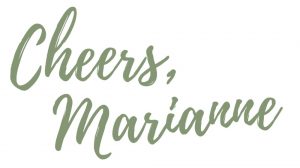 -

BLOG AUTHOR

- 
Marianne
Tansley
Marianne is your fast-talking, cheese-loving 'Make it happen' Online Business Manager (OBM) at Thrive Admin Services. Based in Hervey Bay, QLD, with her husband and their two dogs (Eli and Skye), she's a natural problem-solver, with a knack for seeing both the big picture and the small steps needed to make it a reality.
With over 20 years' corporate admin experience, she specialises in working with women in business to share the tips, tricks and features inside systems like Microsoft 365, Simplero, and more. It's all about reducing the overwhelm, frustration and heavy tech-talk, to create common-sense practical systems and processes that make sense to you! After all, sharing is caring!
Want more Thrive?
Get our weekly newsletter with all the latest updates, including special offers and custom resources! Unsubscribe at any time.