What can I save by using a Virtual Admin?
This is such a great question, and can be answered in lots of different ways. There are some really great infographics on this (and I will probably create my own at some point!), but for now, I wanted to cover a couple of important points.
Save money
Now, to anyone who has used a VA before, you will already know this, but it does surprise a lot of people to learn that you can save a significant amount of money by using a VA. And, as a business owner, that sort of information is important - so let's get it out of the way nice and early.
The first thing you need to know about hiring a VA is that you don't need to provide them with any space or equipment. No desk, internet, phone, computer, stationery - nada. Already, that's a huge weight off!
But there is always the question about the actual cash transaction. I hear a lot of people saying that the hourly rate or package price quoted by a VA is so high, that they can't see the value, and that they would be better off hiring a junior as a staff member.
Crazy talk! A virtual admin is not only a specialist at providing you with exactly what you need to make your business goals a reality, but they are also a really cost-effective solution.
Think of it this way - if you hire an employee for a standard 38 hour week, you pay:
38 hours of salary every week to the employee (regardless of how busy they are)

for them to not be in the office when they are sick, or take holidays (and you may even need to hire someone else to complete their job while they are away!)

for the training they need to be able to do the work you need completed

insurance and WorkCover to ensure everyone is protected in the event of an accident or injury

superannuation of 9.5% of their salary

PAYG instalments
Now, when you are a small business, that's a lot of extra money to be spending for the same 38 hours of 'availability'. It's these 'hidden' costs that people don't think of when they try and compare a VA's quote with a staff member.
But, the biggest point from a financial perspective for a VA is this:
You only pay for the time taken to do the task requested
This is so important! If you have a staff member, and you ask them to complete a task that takes 20 hours in the week, you are still paying them for the 38 hours (and all the hidden costs) for that week - even if you don't have anything else for them to do!
If you hire a VA to do a task that will take 20 hours to complete - that's all you pay for. Nothing more, except maybe GST.
Your VA will offer their services in one of a couple of ways - some use an hourly rate, some use packages, and other used fixed fee services.
An hourly rate VA will issue you with an invoice for the exact amount of time taken to do the job - if it's 20 hours, then the bill is for 20 hours at their hourly rate (plus GST).

A fixed fee service VA will give you a quote for their services to complete the task as requested. If you accept the quote (subject to their terms and conditions), that is all you pay for the task, whether it takes 10 hours or 30 hours. It's not about time at that point, but the value of having the task completed.

Finally, a packages VA would have you pre-purchase a block of hours, and they will report on how long it takes them to complete the task. You still have the remaining hours of the package to use on another task, at another time (subject to their terms and conditions).
Save time
This is really what a VA is all about. Saving you time. Giving you time to do what you do best.
Securing an expert to help you with your documents, data entry, calendar management, emails, IT support, graphic design, social media, sales and marketing, HR admin and sales support can only make you more efficient and professional. And who doesn't want to be efficient and professional?
Businesses value an expert when it comes to finance and legal. When it comes to admin, don't wing it - use an expert, get it done in less time, get it done properly, and move on. A good VA is an expert in the services they provide - they know the tips and tricks to get your task done quickly and in line with your brand.
An employee works a set day. Start at a certain time, take a lunch break, finish at a certain time. A VA isn't an employee. Some of us love to work first up in the morning, before most 'normal' business hours. Others are night owls, and work late into the night so it's finished and ready for you to look at first thing in the morning. Your VA clocks on, does the work you have engaged them to do, and then clocks off. No lunch break, no flicking between emails and phone calls from other clients.
Your work gets completed effectively, efficiently and accurately.
So what are you waiting for?
Your business deserves the best. You want it to succeed. But you can't do it all - no one can.
Invest your time and energy into what you are good at - and outsource the rest! Partnering with a VA who understands your needs, how you like to work, and what your values are will make a huge impact.
Nervous? Sure - this is your baby, and here I am saying let someone else do it! Of course you are nervous. But start small - find that task that you just never seem to get around to, and get a VA to do it for you. Fixed project. See how you like working with them, see if it get done the way you want, in the timeframe you need.
Being a business owner is all about taking those infamous 'leaps of faith' to make things happen. By taking the leap and sourcing a VA that you trust and can work with, it will give the time and energy to make more of those leaps to make your business thrive!
And don't forget to let me know how you go - if you are still looking for a VA, I happen to know one or two! 😀
Have a great weekend!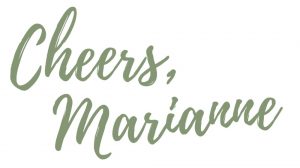 -

BLOG AUTHOR

- 
Marianne
Tansley
Marianne is your fast-talking, cheese-loving 'Microsoft Magician' and Online Business Manager (OBM) at Thrive Admin Services. Based in Hervey Bay, QLD, with her husband and their two dogs (Eli and Skye), she's a natural problem-solver, with a knack for seeing both the big picture and the small steps needed to make it a reality.
With over 20 years' corporate admin experience, she specialises in working with administration professionals and professional services business owners to share the tips, tricks and features inside your existing Microsoft 365 subscription to create the systems and processes of your dreams! It's all about reducing the overwhelm, frustration and heavy tech-talk, to create common-sense practical systems and processes that make sense to you! After all, sharing is caring!
Want more Thrive?
Get our weekly newsletter with all the latest updates, including special offers and custom resources! Unsubscribe at any time.