Knowing when to fold them
This is not the sort of post I thought I would be writing now. Not given the current economic and employment situation all over the world. Yet here we are. And maybe it's not even the sort of post you are expecting, given the title.
As a self-employed person, and as someone who provides a service that can be applied to almost every industry available, I know that I have been incredibly lucky to be able to continue working this year, in a way that has been reasonably unaffected by the global situation.
However, I have recently had to do some hard thinking. I stopped working as an employee of an organisation for one very clear reason. I wanted to control my own work-life balance.
I actually wanted to have a work-life balance, and not be at the mercy of anyone else for it.
And still, somehow, I let the fear of not being good enough, or the worry about not making enough to make it worth all that effort of getting started, get the better of me. I said yes to things that I maybe shouldn't have, let myself get pulled away from the core idea of why I wanted to do this, and got lost in the process and being busy and working for people all day, every day.
Now, I know it's only been 6 months. And that's not a very long time in anything, but especially in a new business. But I do want Thrive (and me) to still be here in another 6 months, and another 6 after that (and so on, and so forth). I sat back after 6 months up and running, and really took stock of what I have done. I'm incredibly proud of what I have achieved so far. I've connected with some incredible clients, and been able to be a part of some important, and exciting, projects. I've used skills that I haven't had to use for a long time, and I've had the opportunity to really delve into things and discover my strengths and weaknesses. It's definitely not been a failure. But has it been a success?
I now have a much stronger idea of who I am, and what I want Thrive to be. How I want to work, who I want to work with, and where I need to draw a line. I've spent almost all of my 'employee' life as the 'glue' of a team. The all-round admin who will have a crack at whatever needs to be done to keep the team moving forward, working long and late to get it done so that nothing gets slowed down. All because I am, at heart, loyal and a team player.
But now, I am a team of one (for now), and at a team meeting (when I sat down on the couch for a moment between clients, and just wanted to close my eyes and not be 'on' for a moment), a thought popped into my head:
What am I doing? This isn't ANYTHING like what I set out to do - where did it all go wrong?
That moment, when I was tired, and a bit frustrated because I was spending twisting myself in knots to please everybody but myself, was (to quote Oprah - because why not) a 'lightbulb moment', which triggered a serious pen and paper session to do a proper brain dump and start working through my 'stuff'.
[GIF]
Thrive was meant to be my path to a balanced life - where I could take care of my mental and physical health at the same time as do something I love as my job. Inadvertently, because I am who I am, I had simply shifted my 'employee' mantra to my 'self-employed' mantra. Back to the drawing board then!
The result? I have a much clearer vision of how I want to work within Thrive. I want it to work, and be successful, but based on my definition of success - no one else's. I want to do the things I am very good at, and enjoy. I don't want to be committed by blocks of time, or set hours in the day that I have to be 'at the desk'. I want the freedom to work in way that lets me take care of myself and my family whilst also providing a professional, quality service to my clients.
I realised that I had held on to almost everything from my old 'employee' mentality, and as a result, wasn't doing anything differently. I wasn't balanced - in fact, I was struggling. Tired, cranky, unavailable, and growing increasingly frustrated with myself.
Most of all, I remembered how I had originally envisioned my VA business - my why. I sat with it for a while, and now, after some serious list-making, a few sessions of talking to myself in the mirror about it, and taking good advice from people who have been there before me.
So, there will be some changes. I've already started - you will have seen that I've got a fresher-looking logo and website. My service offerings, and the way I work will change too. I have had those conversations with clients about stepping back from the work I do for them, as it doesn't align with where Thrive is going, or my strongest skillset. Their support, and understanding, has reaffirmed that I am on the right path.
So, to circle back to the title. I held them for 6 months - held on to what I have always done, and tried to force myself into accepting the idea that it was the only way I could make this virtual admin thing work. All that did was make me question what I was even doing it for.
Now, I am folding them and walking away from that mentality. I am lucky to have an incredible support network - my husband Steve, my family, my friends, and an amazing group of women I am connecting with through an online community. I am folding on what I have always done, what has been my 'safe space'. And walking towards something that resonates more with what I want my life and Thrive to be - it's clear in my head, and I know that it is the right path for me, for Thrive, for now.
I'm excited about where I am heading - where Thrive is heading. You can keep up to date on what's happening at Thrive by following along on Facebook or Instagram. Get in touch - leave a comment here, or on one of my socials. I would love to chat with you, about your experiences holding them, folding them, or walking away.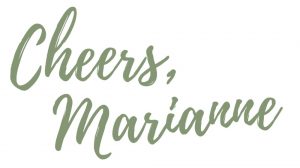 -

BLOG AUTHOR

- 
Marianne
Tansley
Marianne is your fast-talking, cheese-loving 'Make it happen' Online Business Manager (OBM) at Thrive Admin Services. Based in Hervey Bay, QLD, with her husband and their two dogs (Eli and Skye), she's a natural problem-solver, with a knack for seeing both the big picture and the small steps needed to make it a reality.
With over 20 years' corporate admin experience, she specialises in working with women in business to share the tips, tricks and features inside systems like Microsoft 365, Simplero, and more. It's all about reducing the overwhelm, frustration and heavy tech-talk, to create common-sense practical systems and processes that make sense to you! After all, sharing is caring!
Want more Thrive?
Get our weekly newsletter with all the latest updates, including special offers and custom resources! Unsubscribe at any time.