Impostor Syndrome in a Virtual World
Like a lot of the world right now, I'm a little anxious. I'm anxious about the current pandemic, yes, but underneath that is an anxiety that I have had for much longer.
I sat on the decision to make the leap to being a virtual admin (VA) for a really long time. I didn't have the faith in myself to be able to get clients, let alone paying clients, for what I thought were pretty common skills. I've only been a VA for a relatively short period of time, but it really does feel like it's the right choice for me. That being said, I still spend HUGE amounts of time doubting whether anyone else feels that way about me!
There are so many different versions of a VA out there in the world. And the big thing that I struggle with is this very common discussion about 'finding your niche'.
When I started seriously looking at being a VA, this was in every article I read. You have to have a niche. You have to have a target market. You can't be a generalist, you have to be a specialist. And it was terrifying. Let me explain.
I've worked in admin pretty well since I left school. I have done a certificate course, and have a Diploma in Business Admin, but 90% of my skillset has been on-the-job learning and a LOT of self-teaching. I am, by definition of everything I've done in my working life, an administration generalist. And I'm really good at it. But - generalist.
So I started out as a VA, offering the skills that I am really good at. General admin skills, drilled down into some specific offerings. But by and large, they were (and still are) general admin skills.
I offered my skills to my existing network through socials, and I even put my big girl pants on and called some people (on the telephone - like olden times!). And I was lucky enough to pick up a couple of clients.
But that nag about being a generalist still sat there. Whenever I thought about looking for more clients, or trying to find other opportunities; or even when I was thinking about what to schedule for social media - there it was, in the back of my mind.
"You're just a general admin - who's going to pay for that?"
Until I stopped one night, and did some really deep thinking, and writing, about what I am, what I offer, and what value I can offer to a client. I literally sat with a notebook, and just did a HUGE braindump of everything I wanted to offer, was already able to offer, things I thought I could do, things I knew I would be able to do with a little practice and patience, and finally (and most importantly), who I was able to offer these things to.
It was so good for me. I discovered that I can actually do loads more than I thought. My skillset is truly diverse, but it all fits together as a cohesive Executive Admin service. I understand elements of marketing, finance, corporate governance, operations, IT and e-commerce. I have excellent writing skills across a range of formats. I'm organised, efficient and practical. I love being able to streamline, document and instruct. It turns out I'm also really good at writing instruction and handover manuals for how to complete specific tasks and roles in a business, and I'm working on being better at video instruction as well.
What I discovered was that being a generalist is my superpower. I can fill the gaps between specialists, and ensure that the office administration and overall function is seamless and integrated with clear processes.
Being a highly skilled generalist IS my niche.
And I am perfectly happy being one. It's what I am good at, so why try and be something else?
I've identified that I want to work with professionals who run their own businesses - they can be on their own, or have a team. I can work in either environment comfortably - another skill.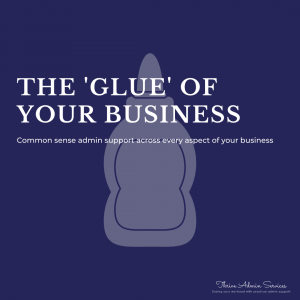 Being the 'glue' of a business was a term I used to use in interviews for admin jobs. You know that question - "So, Marianne - what makes you the right person for this job?" - well, my answer was always very simple:
I'm the right person for the job, because a good administrator is the glue of your business.
When the glue is doing it's job, it sets clear - you can't see it, but it's holding everything together. If the glue wasn't there, all the individual pieces would fall apart.
So, after my big braindump on paper, and sitting with everything I had written, I remembered how that answer had been so well received in so many interviews. Maybe that had been the answer all along.
Maybe, just maybe, instead of worrying about how specialised and niche everyone else was, I should just do what I know how to do, in the way I know how to do it, and trust that the right people will want my services.
So far, so good. There are businesses who need general admin support, but can't afford a full-time (or even part-time) administrator on their payroll. Businesses who are scaling back, or shifting to remote working arrangements, are also looking to maximise efficiency in their expenses. Again, I can help with that (just pay for what you need, as you need it). And I can adapt to different industries (I'm experienced across healthcare, engineering, accounting, and not-for-profit organisations to name a few).
That anxiety is still there - and I don't think it's ever going to go away. But that's ok. It pushes me to really look at myself and what I'm doing. It also reminds me not to be complacent. It's helped me to see opportunities I might have never noticed otherwise. But I am refusing to let it make me believe I don't belong here, in the virtual world, being the glue that I am.
Have you had impostor syndrome? Have you turned it into a positive experience? I'd love to hear from you about how you are handling it, and what has worked for you!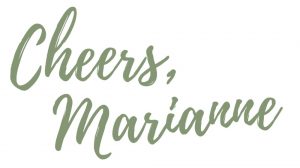 -

BLOG AUTHOR

- 
Marianne
Tansley
Marianne is your fast-talking, cheese-loving 'Make it happen' Online Business Manager (OBM) at Thrive Admin Services. Based in Hervey Bay, QLD, with her husband and their two dogs (Eli and Skye), she's a natural problem-solver, with a knack for seeing both the big picture and the small steps needed to make it a reality.
With over 20 years' corporate admin experience, she specialises in working with women in business to share the tips, tricks and features inside systems like Microsoft 365, Simplero, and more. It's all about reducing the overwhelm, frustration and heavy tech-talk, to create common-sense practical systems and processes that make sense to you! After all, sharing is caring!
Want more Thrive?
Get our weekly newsletter with all the latest updates, including special offers and custom resources! Unsubscribe at any time.