Erm, well......Do you offer packages?
As a virtual assistant (or VA), just about every second conversation I have with a potential new client includes this exact (or almost exact) phrase. And I get why they ask - if they were hiring an employee, it's a fixed amount of money for all the things. But a VA is different - it's not an employee. It's not someone who needs you to micromanage or supervise their every move. In face, they probably aren't even sitting around and waiting for you to have work for them.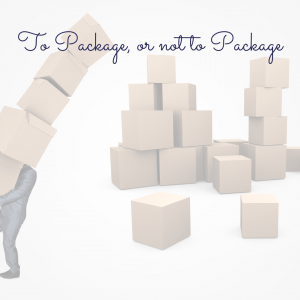 It's a hotly contested topic of conversation on all the VA discussion groups - believe me. "How did you do your packages?" "How did YOU do your packages?" "What services would fit into an [insert random package title] for [insert allocated package fee]?" "How does anyone even make money if you don't package?"
From what I have seen, and this is very much my own personal observation(!), there is a strong tendency for a lot of VAs offshore (ie - outside Australia) to offer packages. These can be a discount for buying a set amount of hours, or a service package with fixed tasks that are completed as a weekly or monthly recurring fee.
Here in Australia, there seems to be a difference in what a VA can offer here, and how you put a price on that. Australian VAs, by and large, use terminology like 'partnering' and 'supporting', as opposed to being specific-task driven. This difference means that there is more of a relationship between a VA and their client, and clients see their VA in the same way they see their accountant, PR people, legal support and expert consultants.
We are a specialist in our own right, providing a tailored specialist service, with a price that reflects the service provided.
Just like you pay your accountant for their time to get your tax return and quarterly statements prepared and submitted as required, or your lawyer for their time to draw up your contracts and provide you with expert advice - so too does your VA's time have value.
A virtual admin is a specialist - that you choose to engage to achieve a goal.
Hourly Rates versus Packages
The first big thing in this business, is the fact that when you start out, you worry so much about your hourly rate. Is it too high? Is it too low? How many hours do I need to work to cover the bills at home? How do I justify my rate to someone who has never met me or seen what I can do?
Just like any business owner, we have to be adaptable and flexible - to a point.
For a business that sells a product, there's a clear bottom line. The products cost $X in material, equipment and labour to produce. Plus packaging and postage. That's the absolute minimum you could sell the product for, to keep paying the bills (without paying yourself a cent for rent, electricity, internet etc, but I won't go into that now!). But no company sells their product for EXACTLY that amount, do they? They add a little extra - partially to cover some of those other 'overheads', but also to promote the value of the product - the value of their expertise to produce, market and sell that product to you, the client. And you pay it.
Because the value is understood.
VA work is no different. My experience in administration, finance, automation, workflow, customer service, corporate services, and processes means that I can produce that document you want, write those email newsletters you have in your head, and document the entire process for you to keep as a reference tool in about a tenth of the time that it would take you (assuming you could drop doing everything else in your business to get it done). But, having the job done, in the way you want, on time, and to keep your reputation/branding/standards consistent to your customers...has a value! And you should be willing to pay for it.
We are definitely still cheaper than having a full- or even part-time admin on staff. There's no payroll, tax, super. You can just use the hours you need. But the value of having that service come in, do the job, and go away again, is represented in the rates quoted.
Striking a Balance
I started out with a pure hourly rate system. I did a LOT of research into what other VAs in Australia charge per hour. I did even more research into what those VAs would and could do for their rates. And I talked to HEAPS of people - those who would use a VA, those who were VAs, and those who work in other freelance and online roles.
So I took all of that, combined with my own skillset and confidence in my ability, and set my rate. And then I waited.
For the most part, it works for me. I have clients who like to work out a maximum number of hours per week/month, at my hourly rate. We work out the tasks they want done, and I charge them for the hours worked to get the work done, up to the agreed maximum.
Other clients want a package. They want a flat number to pay, and an outline of what will be achieved each week/month for that rate. I've put it out there a couple of times - it's still hit and miss for me, as it isn't a natural approach for an all-round VA service, to me.
I have recently opened up a new service offering that does come with a package option. I know - what's that about it not fitting with me then?? Interestingly, the bulk of the work involved in this service is based on a timed rate - and that's standard practice for this service. What I have done, is bundle up some additional services that complement the service. A client can take them on, or leave them off. This way a client can choose whether they see the value in the package price/inclusions, and I haven't devalued myself in the process.
I know there are lots of VAs who offer packaging. And lots of clients who want package offers. And that's fine - if a client can find a VA who can meet their needs, I'm all for seeing someone get that job! But I won't be changing my approach (at least, not for now), because at the end of the day, not only do I want to see your business Thrive - I need to make sure that I am doing what feels right for me and my business!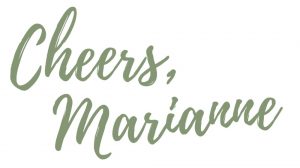 -

BLOG AUTHOR

- 
Marianne
Tansley
Marianne is your fast-talking, cheese-loving 'Microsoft Magician' and Online Business Manager (OBM) at Thrive Admin Services. Based in Hervey Bay, QLD, with her husband and their two dogs (Eli and Skye), she's a natural problem-solver, with a knack for seeing both the big picture and the small steps needed to make it a reality.
With over 20 years' corporate admin experience, she specialises in working with administration professionals and professional services business owners to share the tips, tricks and features inside your existing Microsoft 365 subscription to create the systems and processes of your dreams! It's all about reducing the overwhelm, frustration and heavy tech-talk, to create common-sense practical systems and processes that make sense to you! After all, sharing is caring!
Want more Thrive?
Get our weekly newsletter with all the latest updates, including special offers and custom resources! Unsubscribe at any time.