It's our first birthday!
Welcome to 2021. By now, most of us are all back at the desk (in some form), and starting to get a feeling for what we want this year to be.
Here at Thrive, it's no different. I've been back for just over a week now, and there's so much happening. But today, I wanted to indulge a little, and celebrate a massive milestone - Thrive's first birthday!
Our birthday is technically next week, on the 20th. That's the day that Thrive was 'born' in a practical sense - the business name registration, domain name, and (most importantly) a Facebook page.
Sitting here typing this feels a bit surreal, if I'm honest. I love what Thrive is, what it's achieved in this past year, and where it's heading. It's already so different to what I started with, but every day it becomes clearer to me that this is what I'm meant to do. I love turning up every day, and am so proud of telling others what it is that I'm doing.
And I'm still here, after whatever 2020 was for everyone, I'm still upright, still chasing opportunities, building on what I know is valuable, and being able to do things that make my soul happy.
Thrive is more than just me...
Making it to the 1 year mark of a business is tricky at the best of times, and in my case would not be possible without the incredible support of my husband, Steve. If you follow Thrive on the socials, you will occasionally see him there - he's my biggest supporter and always reminds me that I deserve to be successful, as long as I am happy and comfortable with what I'm doing to achieve it. He's also self-employed, so understands my frustrations and insecurities, and has been able to help me keep them at bay so that I can chase my dreams.
This was us at the Mount Lofty Lookout for our annual anniversary weekend getaway to the Adelaide Hills last year, and one of the limited number of photos of the 2 of us together!!
Of course, Eli and Skye are very much a part of Thrive - they are the support crew here at Thrive HQ, and *constantly* remind me of the balance that starting my own business was based upon (by demanding I step away from the desk to lavish them with treats and attention!). They pick up on my mood, help me to see the lighter side when I'm stressed, and generally keep me company when Steve isn't here. As you can see, it's a job they take very seriously, and it can sometimes be a bit too much 🤓
In the past year, I've also built a tribe of like-minded women, worked with some incredible clients, and found my own way of navigating this self-employed virtual business thing, in a way that reflects who I am and what I stand for. It's been terrifying, exciting, satisfying and nerve-wracking - but I do genuinely feel like I'm finally doing what I love, in a way that gives me both flexibility and control (I'm a complicated creature!).
So what's ahead?
First up for 2021, I've been working on finding my word. I don't know if you do this, but I choose a word (or two) each year, and they become my focal point for the year. Any opportunities or decisions I make are held up against them, alongside my values, to ensure that I'm aligning myself with things that 'fit'.
In 2020, my word was stretch - and boy, did I stretch. New business, change and growth through the year (both personal and professional), all saw me stretching myself to get to where I am now.
This year, I've chosen two words - visible and real.
In 2021, I want to be more visible in both my professional and personal life. For me, being visible means being in the photos, getting in front of the camera, pushing myself forward, starting the conversation, or jumping in to the chat, instead of hiding in the background and hoping I'll get noticed.
Real is about opening up a bit more, and being real about who I am, what I stand for and believe in, and also, getting real about myself. Opening up and sharing who I am makes sense for Thrive, as I am Thrive (for now at least), and so the people and businesses I work with have to fit me, and my values. I also want to get real with myself this year, and take better care of myself - physically and mentally. I want to be an authentic, happy and healthy me - inside and out. And be real about the fact that I've got some work to do to get there.
In terms of Thrive, these words, combined with my values of honesty, integrity, loyalty and kindness, have set the course for 2021. This year will see the addition of six new ebooks to the store, with the first one due out by the end of this month (so keep an eye out for that!), as well as a new service offering that really fits with who I want to work with, and how I want to help.
There's going to be more video content this year - both a part of being visible, but also about me being able to converse with you (albeit, one way), on topics that I get asked about a lot. On our socials, there will be more tips and tricks, and for subscribers of the Thrive Update there are some fantastic resources coming your way this year - all for free!
All of this is moving Thrive in the direction of being able to actively help business owners, virtual admins and professionals to solve their document issues, and have polished and professional documentation representing their brand. This is what I'm passionate about, and I love being able to help people get what they need so their business can keep moving onwards and upwards. It's exciting to see that forming in what I'm sharing here, on social media, and via the work I'm doing with clients on a daily basis.
So here's to Thrive moving into her second year. And coming into her own. Let's do this!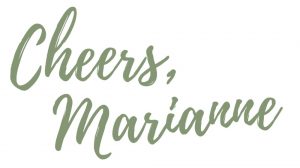 -

BLOG AUTHOR

- 
Marianne
Tansley
Marianne is your fast-talking, cheese-loving 'Make it happen' Online Business Manager (OBM) at Thrive Admin Services. Based in Hervey Bay, QLD, with her husband and their two dogs (Eli and Skye), she's a natural problem-solver, with a knack for seeing both the big picture and the small steps needed to make it a reality.
With over 20 years' corporate admin experience, she specialises in working with women in business to share the tips, tricks and features inside systems like Microsoft 365, Simplero, and more. It's all about reducing the overwhelm, frustration and heavy tech-talk, to create common-sense practical systems and processes that make sense to you! After all, sharing is caring!
Want more Thrive?
Get our weekly newsletter with all the latest updates, including special offers and custom resources! Unsubscribe at any time.