Working Smarter Series: Fields in Word
This post explains how you can work smarter with fields in Word. By using 'automation' tools you can ease your workload, and improve the consistency of your documents!
Fields in Word is part of the Working Smarter series - short, sharp posts that help you to better use Microsoft Word in a way that suits you and your business.
Have you heard of Fields?
Recently, I did a really great Document Discussion livestream in my Facebook group, Document Dynamos. It was all about using fields to help 'automate' your documents in Word.
What made it so great? Well, it was the fact that sharing what fields can do made a HUGE impact on those who watched it. All because I was sharing an easy way to truly help you work smarter.
It got me thinking. I thought people were already using fields in their documents. But as I work with clients, and in the businesses I engage with, it doesn't seem that way.
And here's the thing! I assumed people knew, and so hadn't bothered to share what I know about them before. Duh!
So, here we are - talking about working smarter with fields in Microsoft Word. Because I do truly want you to save time and energy, and be sure that your content is correct before it goes out into the wide world.
Some basics to get us started
Let's start with what fields are. If you know, you know. If you don't, then this whole post won't make any sense (and that's the last thing I want). 
So, what is a field, exactly? Well, the best way I've seen of defining it is this:
Why use Fields?
Make sure your documents are consistent and accurate by inputting relevant data (client name, contact details, report title, etc) once. Then, use a field to place that content where you need it. 
This reduces the risk of you spelling a name incorrectly, or having to go through and completely update every single instance of that name throughout the document (and let's be honest - that can be a nightmare to try and find, after the whole document is done and dusted!).
Ok, but how do I even start with Fields?
Oh, this is the fun bit - I'm going to show you!
I thought that perhaps a little video that explains how to work with fields would be more useful. This way you can see some of the different options, and how they look in use. Enjoy!
Reduce the risk of spelling a name incorrectly. Eliminate the frustration of seeing an error (or incorrect name) on your document just as you hit send (and let's be honest - we've all been there!).
So there you go - Fields in Word 🤓
My hope is that this post helps you find ways to work smarter in Word, in a way that suits your business, and the way you work.
I use fields in almost every template and document I have for Thrive. Why? Because it makes me more efficient, and reduces the risk of getting the spelling wrong. On occasions where that has happened (and it has!), I only have to make one correction, and I can update the entire document with a couple of clicks.
Work smarter in Word with these tools
There are so many ways you can learn about fields - firstly, by having a play in your own existing documents to find what will help you to work smarter.
Then, there are loads of online resources - here are a couple to get you started:
Activia Training Video - YouTube
Insert, edit and view Fields in Word - Blogspot
Full list of Field codes - Microsoft
And of course, you can always get in touch with me directly (see below) if you want a one-on-one session to walk you through the process! 
What if I want to know more?
Oooh, good question! Luckily, Thrive has you covered (duh!).
Become a Document Dynamo
Working smarter doesn't have to mean doing it alone! For a fun and engaged learning experience, join Thrive's free Facebook group, Document Dynamos. There are regular livestreams where we cover topics like this in real time. You can also connect with me (and the Dynamos) directly to help solve your document dilemmas. I'd love to have you join us! You can find the group here. 
Work it out 1:1
Want help getting your head around fields in Word, and how they could work for you? Why not book a Troubleshooting Session with Thrive? There are 2 options - a Quick Fix (30 minutes) or a Deep Dive (60 minutes), and both include step by step instructions on what we cover in our call for you to keep. If you are interested in booking a session, or even just having a free chat to see what Thrive can do to help you out, then get in touch here.
Are you interested in Microsoft Word?
Thrive uses Microsoft Word 365, which is an online subscription as part of Microsoft 365 Business Standard. Using 365 is an excellent way to ensure that you always have the latest version of Word (along with other MS applications!), and it syncs between my desktop and web versions, so I have seamless access to all of my work no matter where I am!
If you would like to know more, you should absolutely do your own research to see if it's suitable for you. You can compare the Microsoft 365 for business plans here. 
**Disclaimer - Thrive is a Microsoft Affiliate, and if you choose to purchase via the above link, I may receive a small commission. You can read Thrive's full affiliate disclosure policy here). 
As always, I would love to hear about how this post has helped you with your documents - feel free to connect with me via any of the options below, or send through an email.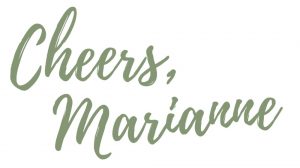 -

BLOG AUTHOR

- 
Marianne
Tansley
Marianne is your fast-talking, cheese-loving 'Microsoft Magician' and Online Business Manager (OBM) at Thrive Admin Services. Based in Hervey Bay, QLD, with her husband and their two dogs (Eli and Skye), she's a natural problem-solver, with a knack for seeing both the big picture and the small steps needed to make it a reality.
With over 20 years' corporate admin experience, she specialises in working with administration professionals and professional services business owners to share the tips, tricks and features inside your existing Microsoft 365 subscription to create the systems and processes of your dreams! It's all about reducing the overwhelm, frustration and heavy tech-talk, to create common-sense practical systems and processes that make sense to you! After all, sharing is caring!
Want more Thrive?
Get our weekly newsletter with all the latest updates, including special offers and custom resources! Unsubscribe at any time.